$

77.00
THE CLN DECK & GUIDE BOOK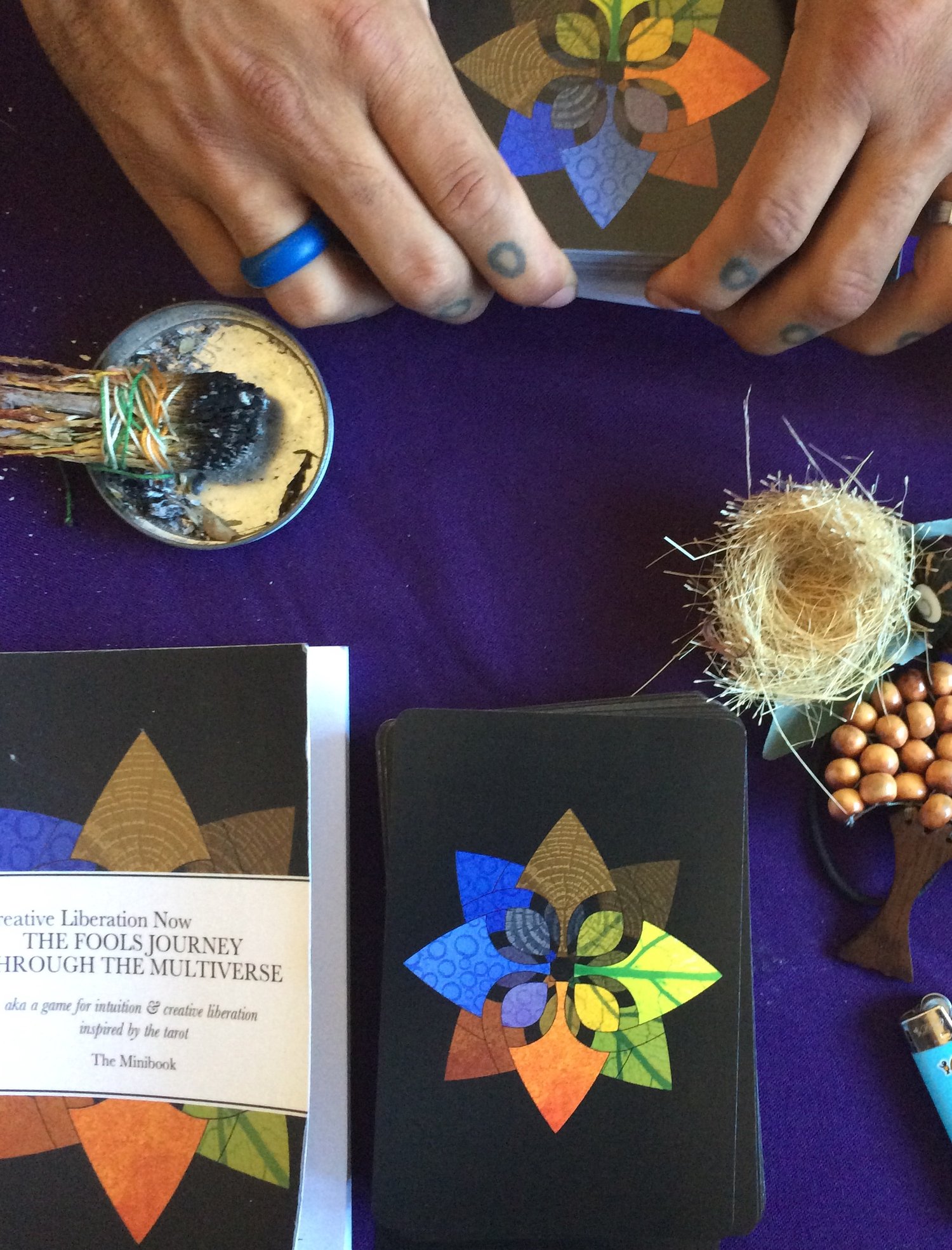 ***THE DECK is currently SOLD OUT***
(Join the mailing list @ www.CLNNOW.us to be alerted when we print again)
*Creative Liberation Now: The Fools Journey through the Multiverse*
**aka a game for intuition & creative liberation inspired by the tarot**
***aka the deck of 13 sacred sacred paths***
108 mixed-media images with a QPOC, permaculturedglobal-eco-social-justice focus make up this dynamic deck, collaboratively created over the course of four years by the CLN co-founders, Amani Will, james-amutabi, and Seneca Beth. The CLN Deck includes an Elemental Arcana, a Journey Arcana, a Fools Arcana (13 Fools), a Multiverse Arcana (13 Universes), plus six essence cards. Each deck includes 108 cards (3.5" x 5" inches) and is hand wrapped in fabric.
THE GUIDE
*Creative Liberation Now: The Fools Journey Through The Multiverse*
**aka a game for intuition and creative liberation inspired by the Tarot**
***aka the Minibook***
****aka the OtherWise Guide****
Each page of this pocket-sized guidebook (4.25" x 6.88 " inches) contains a full-color image of one of the 108 cards in the CLN Deck and the following: a "consistent liberation narrative" (an affirmation); aka's; rooted seeds essences (invitations, practices, and principles that reflect the energy of each card);body and plant allies; body postures; and "clues" to the keywords, symbols, and imagery in the form of hashtags for your further journeying!
NOTE: bulk discounts available for orders of 13 or more; please contact us at askclnnow@gmail.com for more details.
PAY IT FORWARD
We invite your donations to support CLN's ability to make Decks & Guidebooks available to low-income folks, youth, incarcerated folks, other grassroots organizers, and impacted communities in the Bay Area, California.
We are grateful for whatever you give -- $13, $38.50, or $77...or more!
If you are able to donate beyond $77 please contact us at askclnnow.com
Select the "product" called "Pay it forward" to add a donation to your cart.
FURTHER DETAILS
Sorry no refunds once order is made.
All of these items were printed in the United States.
Please allow up to 60 days for delivery. All domestic deck orders ship USPS.
International orders ship first class US Postal Service. Buyer is responsible for duty tax. Time to clear customs can vary a lot from order to order.
Learn more about the creators us at: www.CLNnow.us
GIVING THIS AS A GIFT?
You can print out the Gift Card at this link: http://bit.ly/CLNgift
SHIPPING INCLUDED for all Domestic Orders.
FOR INTERNATIONAL SHIPPING there is a minimum additional cost of $27 (sorry, we wish it didn't cost so much!!)
In Dignity, CLN