$

21.00
"Making Fools of Ourselves" Card Creator's Kit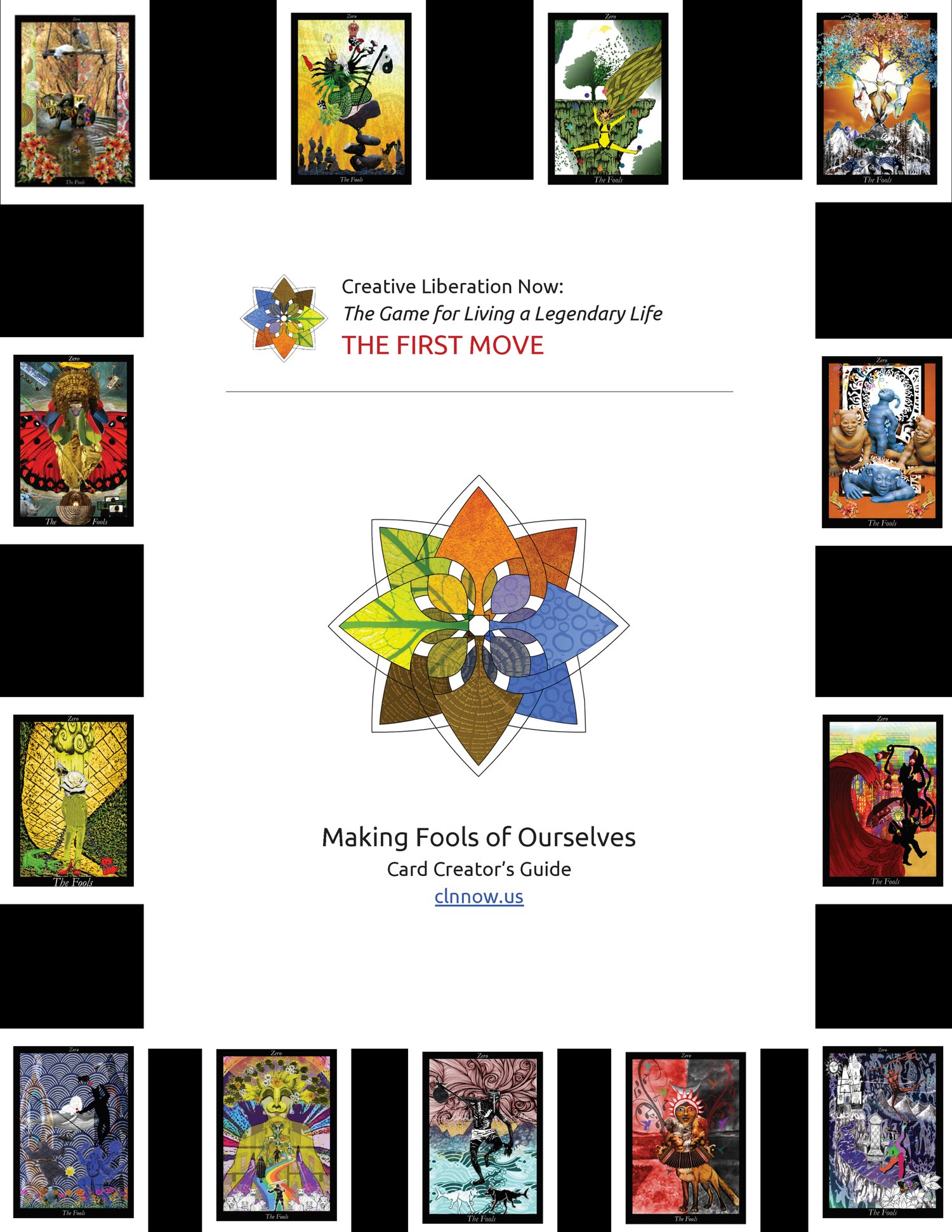 "Making Fools of Ourselves" is an online version of "Creative Liberation Now: The Game for Living a Legendary Life - THE FIRST MOVE!" (The Prototype). We are so inspired by the 12 Players who are currently playing THE FIRST MOVE in-person, we decided to invite EVERYONE and ANYONE to join us! Kick it with CLN today, and lets play. Cause we out here making fools ourselves!
AS A PLAYER YOU WILL:
> create your own unique Fool Card that will be printed and mailed to you.
> discover how the energies of The Majestic Arcana* influence your Fool.
> clarify and hone your SuperHumanPowers (the abilities, talents, passions, hobbies, artistries, gifts, expertise, intuitional talents, etc. that are born, bred and built) so you can win at the game of your life.
THE KIT CONTAINS:
> A Card Creator's Guide for crafting your 'player card' (your Fool)
> Quests (invitations into adventure, risk, stretching, and stepping over all your edges)
> BonusPlays (questions that invite the CLN practices of connection, engagement, integration, and harvesting)
> Tools, prompts, and practices for cultivating confident mindsets, increased ancestral connection, and amplified somatic intelligence
> Monthly Affirmations
> Guides from the CLN Deck (an electronic set of four cards each month)
> Weekly email support
*THE GUIDES: THE MAJESTIC ARCANA (pictured)
The Majestic Arcana consists of The BuilderOrganizer, The FeelerHealers, The AlchemistArtivists, and VisionaryDreamer. This group of cards brings us into ourselves; they are about our internal world and experience. They help us connect, engage, integrate, and harvest from within.
EXTRA GUIDANCE
Do you want personalized guidance for the process? One-on-one sessions are available with a CLN coach (the creators of the CLN Deck). Sessions are
45-mins for $84 or 90-min for $129, which includes the Card Creator Kit.
Click HERE for coaching: http://bit.ly/kitandcoaching
GAME DATES:
> Starts Sept 30th, 2019
> You can play at your own pace; content will be delivered monthly September - December
> If you want your card mailed to you at the earliest possibility, you must submit it to us by December 15th, 2019.
FURTHER DETAILS
Sorry, no refunds once order is made.
GIVING THIS AS A GIFT?
You can print out the Gift Card at this link: http://bit.ly/CLNgift
Learn more about us at: www.CLNnow.us